Spawning Method¶
Overview¶
Set parameters for specifying the position where the node's particles will be initially generated. In addition to the influence that parent particle positions have on their child particles' positions, the values set here affects position as well. In other words, particles are generated around an origin point located at the parent particle's position, then translated and rotated from that point by the parameters specified for the spawning method.

Parameter¶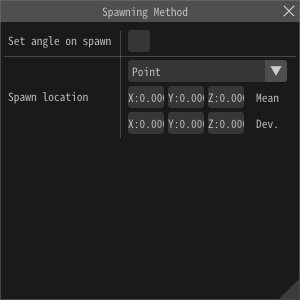 "Spawning Method" window
Set angle on spawn¶
Specify whether the parameter of the spawning method affects not only the position but also the angle. For example, if you specify "sphere", the Y direction of the generated particles will be the normal direction of the sphere.
| | |
| --- | --- |
| Checked | Unchecked |
| | |
Method of Spawning¶
Specify how to set the generation position.